Ritual fabrics. The intertwining of the invisible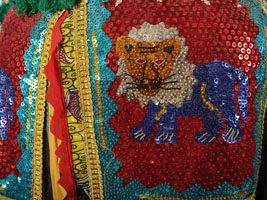 This exhibition invites the visitor to discover textiles – their production, their role, their status, etc. – in diverse rituals from all over the world.
In masking practices, and particularly in rituals, textiles are everywhere. They are the surface which ornaments, amulets or charms are applied to. They are an interface permitting to communicate with a parallel word, i. e. the world of the spirits or of the ancestors. They are also creators of movement, an indispensable support for body techniques; without them, there is no dance and there are no turns.