TICUNA – A people of the Amazon
26 October 2019

-

30 August 2020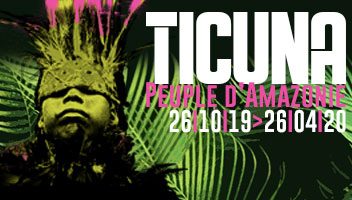 This exhibition invites the visitor on a journey into the heart of the Amazon in order to make acquaintance with the largest Indian ethnic group of Brazil : the Ticuna.
With the help of the ethnologist Daniel De Vos, a very special relationship has developed over the years between the Ticuna and the Museum. Thanks to him, we were able to build up a large collection of masks, costumes, sculptures, etc.
In total, 150 objects are on display. Most of them belong to Daniel De Vos, some are part of our own collections and others are loans from the MUrke (Muzeum voor Religieuze Kunst & Etnografica) in Wilrijk.
The exhibition, which includes numerous photographs and videos, is divided into four parts. The first deals with the history of the Ticuna people, the second with the daily life of this people of the Amazon, the third with its mythology and the fourth is dedicated to the initiation ritual of the New girl during which masks appear.