From 19th to 21st February, the Carnival of Binche will make the hearts of all inhabitants vibrate. While the whole town will be celebrating, confettis will be thrown into the air, music will resound in the atmosphere and the wooden clogs will stomp on the cobblestones, the International Carnival and Mask Museum will also be in on it. 
SPECIAL « CARNIVAL » OPENING HOURS

 
---
During the three days of Shrovetide (Jours gras), the Museum will be open without interruption from 9.30 a.m to 6 p.m. We will be closed on Ash Wednesday (22th February). 
WHAT'S ON DISPLAY 

AT CARNIVAL

?
---
THE MUSEUM SHOP

 
---
Are you looking for a particular book, a souvenir or an original gift ? Visit our museum shop ! Before or after your visit to the museum or even without visiting it (the museum shop is accessible to everybody via the main entrance).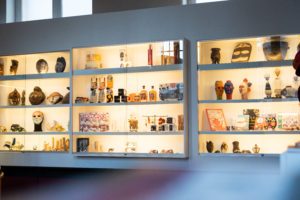 For more information about our museum shop : 
064/33 57 41

accueil@museedumasque.be